Cosmetics and household chemicals testing laboratory- patch test, HRIPT test, dermatological tests for cosmetics
Cosmetics and household chemicals testing laboratory
Patch tests for cosmetics and household chemicals are performed to check the safety of the product's impact on the skin, the so-called skin compatibility. It is an assessment of the potential irritating and allergenic properties of the product.
Patch test, HRIPT test, dermatological tests for cosmetics
The most common symptom of the allergenic effect of cosmetics is allergic contact dermatitis. Its occurrence depends on the allergenic properties and concentration of the allergen, the place and time of application, as well as the condition of the skin on which the cosmetic is applied. The most common allergenic substances that are included in cosmetics include fragrances (essential oils, aromas), preservatives and dyes.
Patch tests for cosmetics and household chemicals are carried out under the strict supervision of a dermatologist.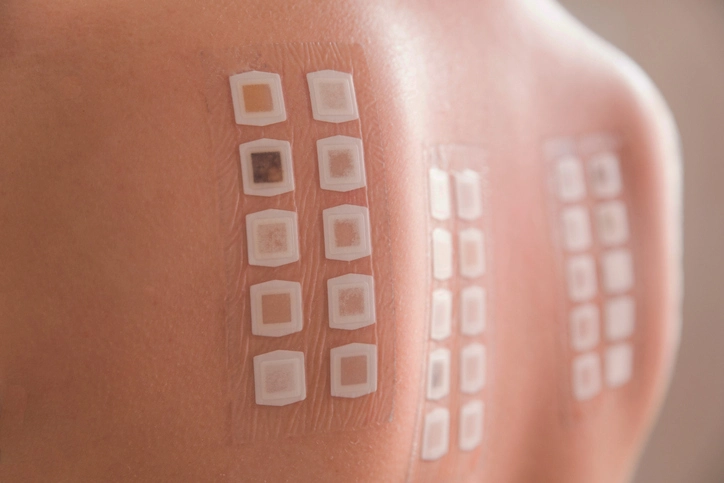 Our probants are provided with medical care in the event of any adverse symptoms resulting from the examination.
We specialize in testing products intended for the skin of adults and children, we confirm hypoallergenicity.
We offer:
patch tests, normal skin – negative allergic history
patch tests, sensitive skin – positive allergic history
open tests
HRIPT tests
Dermatological tests for cosmetics
EpiDermLab Laboratorium badawcze s.c., laboratory address: Poland, 30-611 Kraków, ul. Beskidzka 22a, phone: +48 662 178 533, mail: biuro@epidermlab.pl, VAT-ID: PL9452271009